Members
Why we are chosen
Rationality + Humanity
We value Speed, Accessibility, Cost effectiveness. For lean start-up, quick feasibility study is indispensable, as it seems to be capable of reaching any information, bursting volume of information makes us being in difficulty with how we reach right ones.
To provide according to client-needs only to cover necessary information and advice quickly at reasonable price, via online platform so keep it accessible at anytime.
We keep one- on- one guide to you. Unlike most online service with so many layers of auto Q&A trees on website, we try to eliminate 'tackling with system to reach right answer' as much as possible. Our operators are always behind our system, communicate with you when you are in need.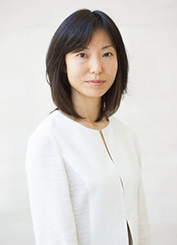 Rieko Shofu
President and CEO
With rich experience of supporting market entry in Asia / ASEAN, Rieko has established Sensing Asia in 2014.
Rieko started her consulting career at Hakuhodo Inc., where she was the Executive Manager at Corporate Design department, which addresses business and brand consulting.
Prior to establish Sensing Asia, Rieko worked as Corporate Officer and Executive Manager at Hakuhodo Consulting. Her areas of specialty are; business planning in global market, building business strategy for entering overseas market, marketing strategy and execution support, CMO, M&A, turnaround management, and new business development.
Rieko has many track records of speaking engagement under the theme of global market, such as 'Global Business Forum 2008' in Moscow, 'Esomer Asia Pacific Conference 2009' in Beijing.
A member of the Regional Science and Technology promotion committee, Ministry of Education, Culture, Sports, Science and Technology
Editor of 'Marketing Horizon' published by Japan Marketing Association
Participant at THNK School of Creative Leadership Amsterdam
Haruyoshi Fujino
Sensing Asia Director
Haruyoshi started his career at Retail Giant in Japan as Marketing strategist and handled store marketing and strategy. After working as corporate officer and store manager of flagship department store in Tokyo, he moved to J. Front Retailing as a board of director.
He was in charge of M&A, Corporate strategy, New business development, Digital transformation. He has a strong track record of working with VCs and startups in Silicon Valley, Shanghai and Singapore.
He is currently an adviser to financial service company in Tokyo.
Yasuyuki Tanaka
ASPASIO Co., Ltd. Representative Director
Sensing Asia Partner
Yasuyuki started his career at the Long-Term Credit Bank of Japan (Currently Shinsei Bank) and its subsidiaries.
He established Brain Link Corporation, primarily handled business reconstruction duties, listing support, and implementation of cash flow management system. Brain Link Corporation was integrated with GCA Savvian Corporation, he handled financial DD and PMI support, business reconstruction support duties as the leader of the transaction service team. Additionally, as the representative of GCA Savvian's Chinese local corporation, he supported multiple China-Japanese M&A considerations and execution.
He established ASPASIO Co., Ltd. in 2014, took office as the representative director, and joined in Sensing Asia.
Toshihiro Suezawa
ASPASIO Co., Ltd. Managing Director
Sensing Asia Partner
Toshihiro started his career at Andersen, KPMG FAS and Bank of Tokyo-Mitsubishi UFJ, Ltd. He was engaged in statutory audits, financial DD, system development, and various consulting. At GCA Savvian Corporation, from planning investment strategies to PMI (Post Merger Integration), he supported the M&A process from start to finish (Temporarily transferred to a general trading company while still being affiliated, and supported multiple investment projects).
He established ASPASIO Co., Ltd. in 2014, took office as the managing director, and joined in Sensing Asia.