Haruyoshi Fujino, Director at Sensing Asia

some of the toospaste products at storefront
While many countries have been hit hard by Covid 19, China, despite being the source of the corona virus, has been the first to succeed in containing it under its strong state power.
While it is promising to observe that human exchange with overseas countries will continue to be limited for the time being as the Beijing Winter Olympics are scheduled for next year, domestic travel is already active, and the Chinese economy continues to grow compared to other countries, mainly due to domestic demand. Chinese people in particular have a strong appetite for consumption, and their lifestyles are beginning to change along with economic growth. The wealthy seem to be bombarded with brand-name products, but are there any major changes in the purchasing behavior of ordinary Chinese consumers?
In this article, I would like to take a look at the Chinese oral care market to see how Chinese people's lifestyles and values are changing.
China's Oral Care Market Continues to Expand
According to Statista data, China's oral care market has been growing at nearly 10% annually since 2020 and is expected to reach approximately 1.2 trillion yen by 2025.
The toothpaste and toothbrush market will account for more than half of this amount, and is expected to reach approximately 670 billion yen by 2025.
According to Shukan Shogyo, Japan's oral care market in 2019 will be 212.8 billion yen, and considering China's population is 10 times larger than Japan's, there is a good chance that the Chinese market could theoretically be 10 times larger, or 2 trillion yen.
However, it is conceivable that people do not yet have an understanding of oral care and its habits. In other words, as the standard of living rises in the future, the market may expand even more than current predictions.
Do women brush their teeth less than twice a day?
So what kind of oral care do Chinese people do?
We conducted an interview survey in June this year, and found some interesting results; behavior and interest in oral care differed greatly by generation and age.
We then conducted a questionnaire survey of women in the first-tier cities of Beijing and Shanghai, the 1.5 tier cities of Xi'an, and the second-tier cities and below.
What we found was that the number of times a day women brush their teeth differed by city class.
In first-tier cities, the norm is twice a day, with some Y-generation office workers brushing three times a day; in Xi'an, a 1.5 tier city, the norm is twice a day, but many senior citizens brush once a day.In cities below the second level, brushing once a day is the norm.
Also, this is basically brushing your teeth in the morning, as soon as you wake up. This is also the case in Japan, where a lot of bacteria is generated in the mouth during the night while sleeping, thus the reason to clean it.
On the other hand, when I asked them about their habit of brushing their teeth after meals, they said that if there are any stains on their teeth after eating, they can just remove them with a toothpick. That's why we have toothpicks, they said.
This is a logic that is typical of Chinese people.
Brushing one's teeth in the office washroom after lunch, which is common in Japan these days, was hardly widespread. One woman who had worked in Japan said that when she lived in Japan, she used to brush her teeth at lunch, but when she returned to China, no one else was doing it and people thought it was strange that she was brushing her teeth alone, so she quit. From this point of view, there is a possibility that lifestyle itself will change.
My favorite toothpaste is different for each generation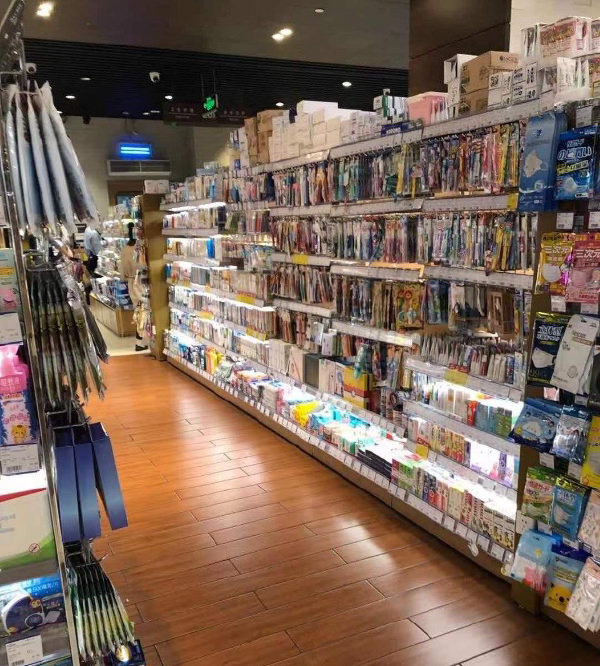 Shanghai Hisamitsu, a toothpaste store with an overwhelming selection of toothpaste.
Shanghai Hisamitsu, a toothpaste store with an overwhelming selection of toothpaste.
In China, there is a huge variety of toothpaste on the market.
There are various kinds of toothpaste, basically made in China, but also made in Korea, Japan, Europe and the United States, at prices ranging from 150 yen for domestic products to 17,000 yen for luxury products. However, this is only the case in first and 1.5tier cities, and the selection becomes much smaller in second-tier cities.
Of course, there are many toothpastes available on the Internet, so it is possible to buy toothpaste even if you live in a rural area. However, there is a Chinese way of thinking here: "What you put in your mouth must be safe and secure. For this reason, it is important to check the actual product first. Also, information only on the Internet is not safe.
It is true that word-of-mouth communication is very important to Chinese people, but in rural areas, they are hesitant to buy products unless they actually have them. In this sense, the importance of real stores in oral care can be reconfirmed.
Next, what brands of toothpaste do they prefer?
In big cities such as Shanghai and Beijing, people are very particular about their toothpaste, and each family member uses their own toothpaste. Incidentally, this trend is not seen in 1.5 and second-tier cities, where people don't seem to be that particular about their toothpaste.
Toothpaste tastes and preferences vary greatly from generation to generation. Chinese people, who tend to choose toothpaste individually according to their purposes, have different requirements for different generations and lifestyles.
The same is true in Japan, with the younger generation looking for whitening and bad breath, and the older generation looking for prevention of gum disease.
What is interesting, however, is that the younger generations, especially Generation Z (up to 25 years old) and Generation Y (26-39 years old), are very different when it comes to toothpaste. To begin with, our sense is that Chinese people generally prefer to use foreign products, especially Japanese products, because of their high quality.
Toothpaste, in particular, is so popular that it is one of the top souvenirs for inbound consumption.
Therefore, when I asked Generation Y about it, they said that since no one can go to Japan nowadays, they cannot ask people to buy them as souvenirs, and often buy them in bulk when Japanese products are on sale at low prices online. In addition, some Japanese companies have already started selling locally produced toothpaste. The price of imported products from Japan is about two to three times that of local products. Locally produced toothpaste is about 1.5 times more expensive. However, it seems that the Y generation has a strong desire to whiten their teeth and control bad breath, even if they have to spend a little more money on toothpaste. Incidentally, they overwhelmingly prefer Korean brands for whitening.
However, it seems that the formula of Japanese products = high quality products does not necessarily apply to Generation Z.
Generation Z's obsession
Generation Z is the generation that is attracting attention among all generations by every industry.
In Japan, according to Mai Nagata, director of SHIBUYA109 lab., a marketing team established by SHIBUYA109 Entertainment that specializes in Generation Z, the characteristics of Generation Z are
Self-identity is determined by the people around them: They are conscious of how they are viewed by the people around them.
Highly sympathetic: concerned about what others think of them and highly empathetic
Multifaceted: have a variety of features about themselves and express them according to the community, including social networking accounts
Diversity is natural: they think it is natural for them and others to have many different sides.
It seems to be the same as the Z generation in China.
China's Generation Z has similar characteristics and does not simply long for foreign brands. They make full use of digital information and find what they want through communication with their peers.
They are also attached to domestic brands, and are especially proud of their country, China. This may be due in part to the fact that China is already leading the world in the digital field, which gives them a sense of pride.
Therefore, they do not accept Western and Japanese culture as it is, and they do not seem to be aware that toothpaste made in Japan is safe and effective.
This is where the future of the Chinese oral care market lies!
In China, where twice-daily tooth brushing is finally taking root, the oral care market is a promising market that is expected to grow by nearly 10% annually, and there is a good chance that it will grow to three times a day like Japan. Not only toothbrushes and toothpaste, but also related products such as mouthwash can be expected.
It is important to take a two-pronged approach: the reassurance of being placed in a real sales space and the promotion of e-commerce. There are many competitors, not only domestically produced, but also from the U.S., Europe, Japan, and Korea, and there are many factors to differentiate such as price, efficacy, and brand strength.
In the future, it will be the young generation that will increasingly brush their teeth, and the current generation Y may be able to accept the marketing strategies that have worked so far.
However, the brand power of foreign brands will not work for Generation Z, which will account for nearly 25% of the market.
For Japanese companies, the way out of the fierce competition will be to quickly come up with a marketing strategy for Generation Z that is completely different from the one that is currently working for Generation Y.
Our Services
Rapidly providing most essential information for initial stage in business extension abroad, including local environment, business information, market information for individual industry. Industry information of the considered countries can be found here without spending hours and the need to contact multiple sources.

Contains reports on latest changes in indications and market trends from local news and articles in native languages. Additionally, approximately ten topics are picked up from hottest local articles and news within last six months for every category listed below.

Customer or consumer survey of specific industries and segments, including particular category products, service. We can conduct both B2B and B2C survey.